01/01/23
Breezin' Thru
ULTIMATE PLAYOFF
Starts January 17th!
Note for note, get ready to play against the best. Your school goes up against schools from across North America and around the world and students put their skills to the test.
THE COUNTDOWN IS ON!
5
Chances to WIN
4
Exciting games
3
Ways to rank (by school, by state, by world)
2
Minutes of thrilling knowledge and rapid response building with each play
1
Ultimate winner per game
ZERO
Time to waste
Contest runs from January 17 until February 17, 2023 and is open to all subscribers.
Each winning school will receive a pennant as a prize.
You must register your school to participate.
How It Works
In this Ultimate Playoff version, there are 4 games, and 5 chances to win:

1 Treble Clef Winner,
1 Bass Clef Winner

1 Winner

1 Winner

1 Winner
The school with the best score/ranking in Level 4 of a game at the end of the contest is the winner. If there's a tie, the winner is the school with best 5-player average.
Once you opt in you'll gain special access to the Ultimate Playoff platform with tournament versions of the games, cool rankings, leader boards and challenges. All student names are kept private, only you will be able to see how your students are doing.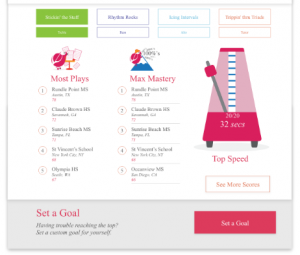 Helpful Tips for Teachers
The competition is aligned to the Breezin' Thru curriculum, see the chart below and simply choose the game that best supports your lessons. Your kids build mastery and rapid response while having a blast. Encourage them to play often!
Recognize their individual success! With your dashboard view, you'll be able to see which students are exceling. Print out downloadable certificates to award to your top-ranking kids.
There are tons of ways to motivate your students! Challenge them to attain individual goals like most plays, best score, or to place in the top percent.
• For Middle Schools: Rhythm Rocks or Stickin' the Staff is a great place to start.
• For High Schools: Try your hand at Icing intervals and Rhythm Rocks and show the world who's boss!
• In Honors or AP Theory: Make Trippin' Thru Triads your very first stop.
Supporting Your Curriculum